Energize your mornings or get through the 2:30 p.m. slump with an organic, healthy smoothie.
1 cup frozen blueberries
1 ripe banana
1 cup Organic Girl Super Greens
1 tbs almond butter
1 tbs pure maple syrup (the real stuff here!)
1 tbs flax
1/2 tsp cinnamon
1 cup water
1. Place all ingredients into a blender and enjoy!
Chia Seeds
Wheat Grass Shot
Add all ingredients to blender. Blend. Enjoy.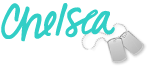 *I received these products for free to review as part of the Mom Bloggers Club. The opinions expressed are honest and provided without monetary compensation.