Many of you have requested more men-focused posts, giveaways and reviews. I'm happy to end 2012 with a review of the
Dollar Shave Club
- a monthly razor blade subscription.
For $1, $6 or $9 a month you'll receive the perfect blade. I received The 4x to review and i love it. If you click for more info it says your girlfriend will love it too. This is a razor I would continue to shave with. I've used plenty of cheap razors (hello, college) and these are not cheap razors. They are inexpensive razors that do the same, if not better job than the ones you spend $18 on at the store.
Men can be just as picky as women, so Dollar Shave Club provides 3 options, with the handle included. You may upgrade or downgrade at anytime.
This is a great
holiday gift
and Dollar Shave Club has a satisfaction guarantee. Blades are delivered monthly and you will save hundreds of dollars on shaving.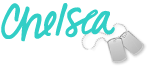 Dollar Shave Club provided me with one month of the 4x blades. The opinions expressed in this review are my own.