Click for an explanation about Scentsy in my previous post.
Scent cubes (delicious smelling wax)
Tray
Light Bulb
Plugin Warmer
Scentsy began with a simple idea—
a safe, wickless alternative to scented candles—
and quickly grew into one of the most successful direct selling companies in the world. This wickless concept is simply decorative ceramic warmers designed to melt scented wax with the
heat of a light bulb
instead of a traditional wick and flame. (source: https://chickey.scentsy.us/Learn)
I have a full-size, mid-size or plug-in warmer in every room of my house. Scentsy is awesome because the wax will never exceed body temperature, making it safe for humans and animals if there were to be a spill. I've put my hand in the wax, on purpose, and was not uncomfortable or burned.
Each month, Scentsy comes out with a Warmer and Scent of the Month. July's is perfect:
As refreshing as a frosty-sweet glass of lemonade on a hot day: Juicy strawberries and red currants cut with a blast of zesty citrus.
Twice a year Scentsy releases Bring Back Bars. Anyone can vote on which bars are brought back. The 20 winning bars are brought back only for a month and may never be seen again. I buy all 20 every time because I know I'll like 99% of them without smelling them first.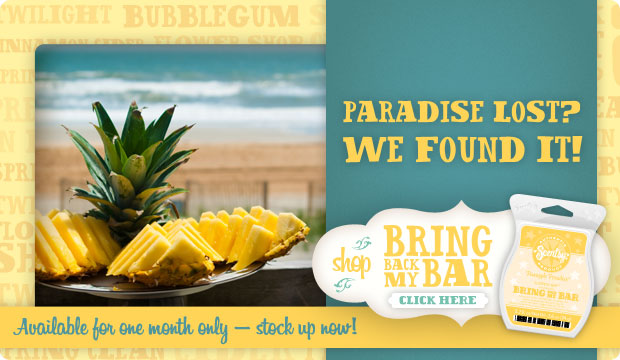 July Bring Back Scents: Always, Banana Nut Bread, Cashmere, Cinco de Mayo, Citrus Sun Tea, Cranberry Mango, Cranberry Muffin, Cutiepie Cupcake, Fresh Cut Grass, Fried Ice Cream, Go Go Goji, Grape Granita, Lemon Lavender, Luscious Lemon, Maui Mist, Mulberry, Orange Dreamsicle, Pineapple Paradise, Rustic Lodge & Watermelon Patch.
samples
If you're not a scent risk taker, go to the contact page and send me an email requesting all of the scent samples, I will send you the samples and a catalog and you can go through them at your leisure before you place an order. If you hold an in-person or online party, everything your friends and family orders will help your receive a percent and set dollar about of money off of your order. So, while you have the samples, you might as well pass them around!
Visit http://chickey.scentsy.us to browse or shop online 24/7.