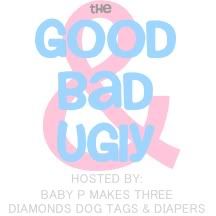 Loni
and I have a lot of preggo and new mom friends on Facebook. They have no idea what is about to come. I (loni) started The good, the bad and the ugly about pregnancy, childbirth and beyond. It's not pretty, but someone's gotta tell you about it. No one told us. We've linked up our posts from pregnancy, child birth and the first year and now we're writing even more! No one told us the things we would endure, maybe they did, but we didn't listen. It's not all bad, but at the time it might seem like it. Trust us, it's all worth it in the end!
You'll read these posts and think:
That won't happen to me
You're a freak I'm luckier than you
You'll believe us when:
someone is cleaning your vag with a squirt bottle or checking your catheter
or you realized you haven't gone number two in two weeks.
you think a c-section is minor surgery and you try to work out after 5 weeks and literally bust yourself open
It won't matter anymore when you have your baby and realize it's all worth it and you'd probably do it again!
Now it's your turn! Please link up as many posts as you like of The Good, The Bad & The Ugly: Planning, Pregnancy, Childbirth and Beyond stories in the link party below. This is a simultaneous link party which means if you link up here you'll also be automatically linked up on all of the other blogs that use this code.
(Type the blog post title or topic instead of your name)
How cool is that? So much exposure for your links! Don't forget to add the badge to all of your posts, even if they're old!