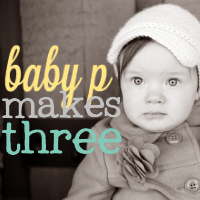 Head over to Baby P Makes Three to read Loni's saga of pregnancy, childbirth, infancy and beyond!
The good. The bad. The ugly.
The good, the bad, and the ugly...continued.
The good, the bad, the ugly, the first months...
My top pregnancy and infancy-related posts
I'll take sticks and stones and broken bones over your hurtful words
Dear Non-Pregnant Person
Who are these old wives and why are we to believe their tales?
Brady's (hilarious) Birth Story
Mommy's First Scare: Nursing & Blood